Home Medicine Summit
October 15, 2018

-

October 21, 2018

The Home Medicine Summit
The Home Medicine summit runs from Oct 15th-21st with a two day encore afterwards. It is hosted by Marjory Wildcraft who founded the Grow Network. She is an author known for the video series 'Grow Your Own Groceries'.
The Grow Network are dedicated to teaching people sustainable living, how to grow food, do homesteading, build soil, raise livestock, and natural medicine including herbs and first aid.
There are 6 free gifts for registering for the event, registration is free, the day's talks air free for 24 hours though it is possible to purchase the event to view later in your own time.
Day 1: Speaker Line Up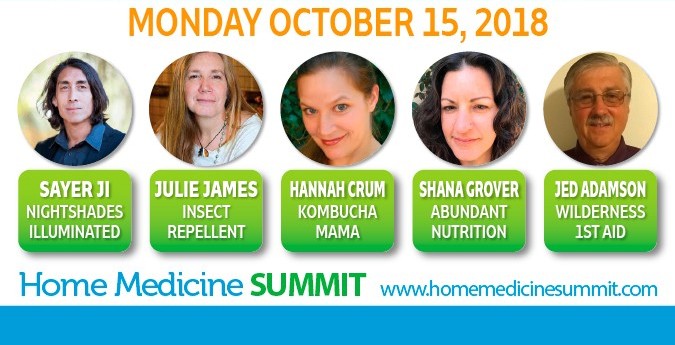 Sayer-Ji was good on nightshades, they discussed what vegetables and fruits belong to that group and there were a few surprises, as most people know tomatoes and white potatoes and eggplants, but it also includes cayenne, goji berries and Ashwaganda! So the bottom line was there are hug benefits to this food group and maybe do a simple elimination test avoiding them for a couple of weeks then introducing them one by one, eat for one day then wait to see any reactions over the next few days. And see if you can add them back in. He didn't however seem to be aware of the powerful effects of cayenne for the heart, for stomach ulcers, for stopping bleeding – that is the sort of wisdom and experience you get at The School of Natural Healing.
I'm looking forward to the other talks at this summit, I've looked into my own insect repellant in the past but always open to new ideas. I'm also looking forward to the first aid talk as this guy is very experienced in it.
The free registration gifts include:
5 Kitchen Spices That Turn Your Meal Into Medicine

Seed Saving Guide

Edible Flowers: Culinary and Medicinal Uses

The Ancient Art of Raw Vinegars

The Top 10 Survival Crops

The Miracle of Garlic
I'm currently performing my own garlic miracle having spent the last 4 days fighting a serious tooth infection. I don't have access to antibiotics so must use garlic. I could see the infection turn around and retreat. I'm experienced with this over the years. This is possibly my worst infection to date, it normally does not take 4 days! That's a good reminder to have your herbal first aid kit ready stocked for times like this!!
Check out the School of Natural Healing foundation course here.
Register for the Home Medicine event by the Grow Network here