Qigong Global Summit
September 18, 2018

-

September 20, 2018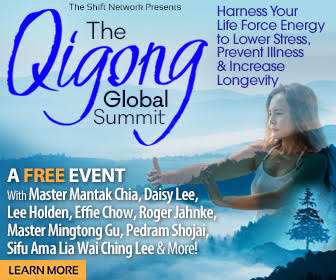 Qigong Global Summit Sept 18th-20th
Qi Gong, Tai Chi, martial arts for health and healing, the gentle bodywork side of things, as health so often focuses on nutrition we need also to get the body moving and yet vigorous exercise isn't possible for many people recovering from illness.
How Medical Qigong is defined
Medical Qigong is an ancient form of Chinese energetic medicine, and is one of the four main branches of Traditional Chinese Medicine (TCM), along with acupuncture, herbal medicine, and medical massage.
What is Qi Gong?
Here is some of the interesting stuff said about it at this event:
"…A daily Qigong practice, available to everyone, can immediately lower stress, increase energy, prevent illness, and support you in rejuvenating your body, mind, and spirit.

With Qigong, you can learn to bring healing energy — known as "qi" or sometimes written 'chi'— to particular parts of your body to transform anxiety, stress, and disease into self confidence, inner peace, and optimal health.

As your body responds by doing what it's designed to do — heal and re-balance itself — blockages in your flow of qi disappear and your full life force energy moves smoothly, radiating out into all aspects of your daily life."
And they have seven stated learning goals with this event:
How to tune in to your body's subtle distress signals before your health is compromised & becomes a crisis

Simple health exercises from China and Tibet that protect, support and boost your health & immunity

Helpful breathing exercises to relieve PTSD & boost your health

The concepts of energy (qi) flow and how it plays a role in the physical, mental, & emotional systems in the human body

Ways to discover, experience, circulate & build your life force energy

That qigong can be used as a self-defense modality

Methods for accessing your fountain of "dynamic happiness" in the modern world<—with caution, I personally am promoting it as a form of exercise, not a new spiritual path though people are welcome choose whatever philosophy they like.