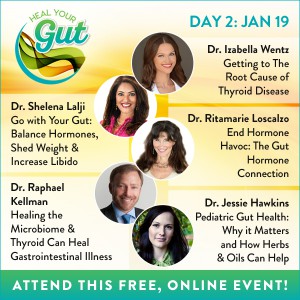 This is the line up for Day 2 of the Heal Your Gut Summit, 2016.
I personally bought the summit, as I don't have 5 hours a day to tune in this time round, though I have done so in the past.
It is nice to see a few new faces this time, as there certainly can be a bit of speaker fatigue if you attend all the conferences, oh yes, there are MANY free conferences like this, which is great. It is motivating to tune into positive talks on health. Most of the speakers have actually cured themselves of some major illness even though they are doctors – now there is a statement and a half!
They are doctors who did not want to be medicated for the rest of their lives, so they went in search of alternatives, and to find out what was causing their illness.
– yes, no doctor really goes to those lengths unless it is for themselves, something to bear in mind with your local doc, has he/she done it for themselves, do they walk the health and healing talk, do they even know it??
Now the doctors in this line up are the result of having succeeded with their own 'incurable' illness – they usually bring quite a bit of alternative medicine to their practice and sometimes try to mix alternative medicine with routine regular medicine. These sort of docs are good if you are already on meds, or after surgery, so there may have actually been an alternative for you, but having chosen the standard medical route [and survived] at least you can still improve your condition and life quality and maybe reduce or eliminate meds with people who know how to deal with those meds.
But some of the speakers are not doctors, they may be naturopaths or health practitioners of different modalities, and some speakers are just 'untrained' people who have done amazing things either by finding solutions to their own illnesses or research.
If you've had the chance to tune in to day 2, leave a comment to say what you thought of it, what you learned or were looking for.
Robin.